We make it easy for candidates to love you.
Discover how AtlasJobs mobile-first talent engagement platform delivers a better experience for you, your job seekers and your employees.
Features include:
Mobile native app
Map and list view options
Push notifications so candidates can receive alerts for new roles as soon as they become available
Easy filtering by industry or opportunity type: jobs, internships, mentorships and more
Post videos from your company and hiring managers to share work culture or to provide more insight on open roles.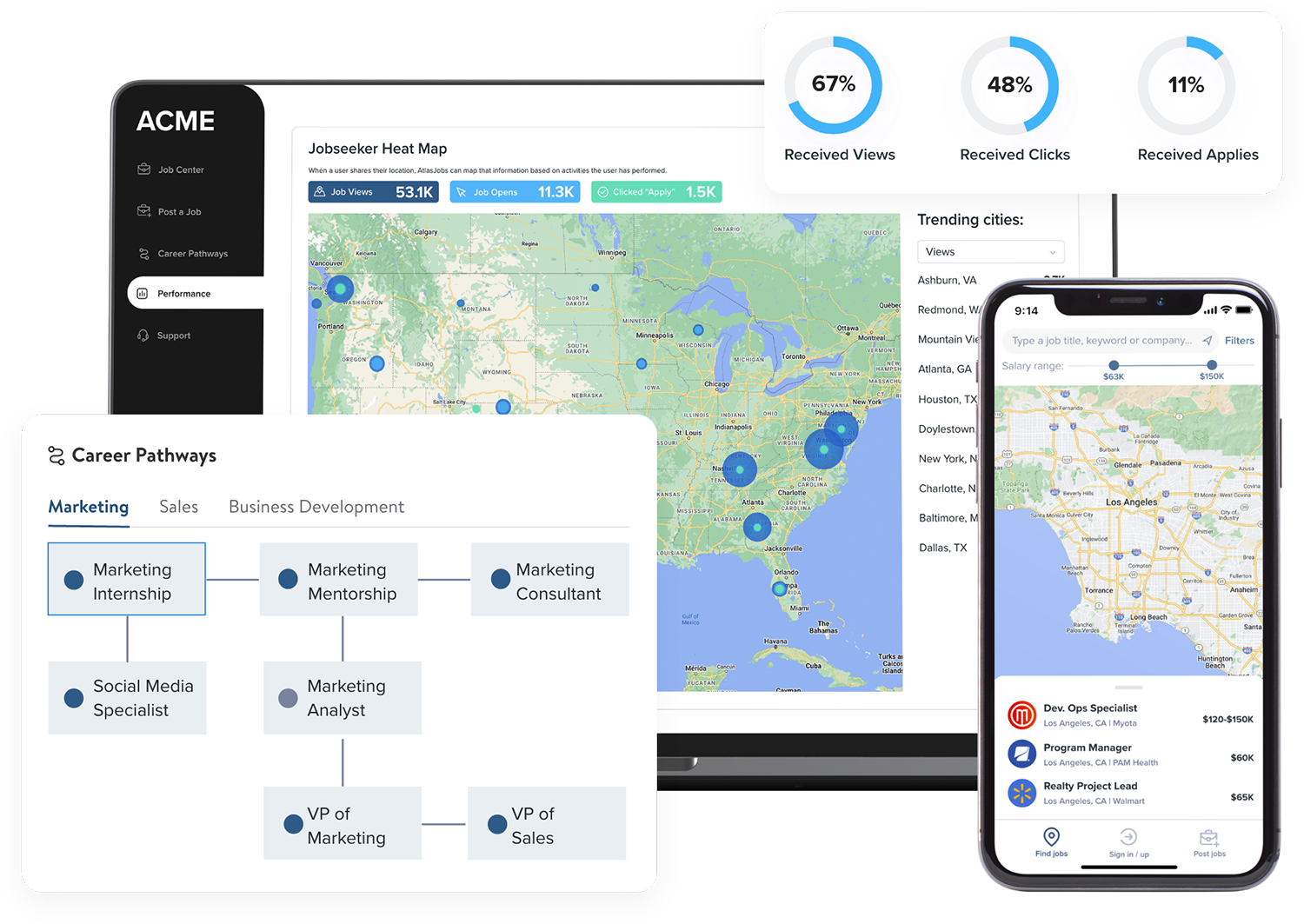 Put your best brand forward
Present your employer brand in the best way possible. Replace your career page with a custom interactive job search experience powered by AtlasJobs. Create filtered maps that can easily be shared with key partners or to showcase specific opportunities at career fairs.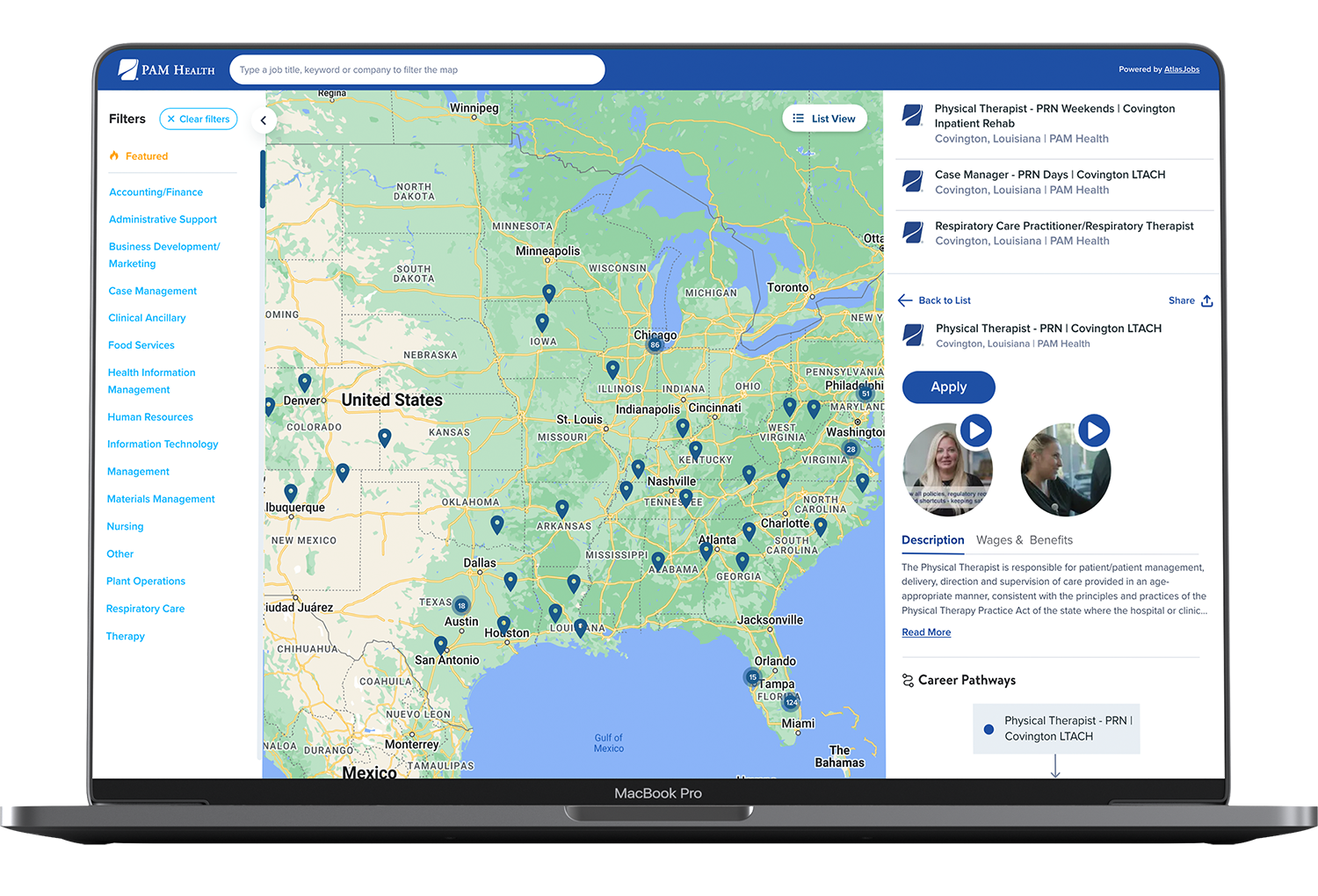 Don't change for us
Easily integrate with your current ATS or CRM system with AtlasJobs Auto-Sync feature. We took the hard work out of integration so you can be up and running in days.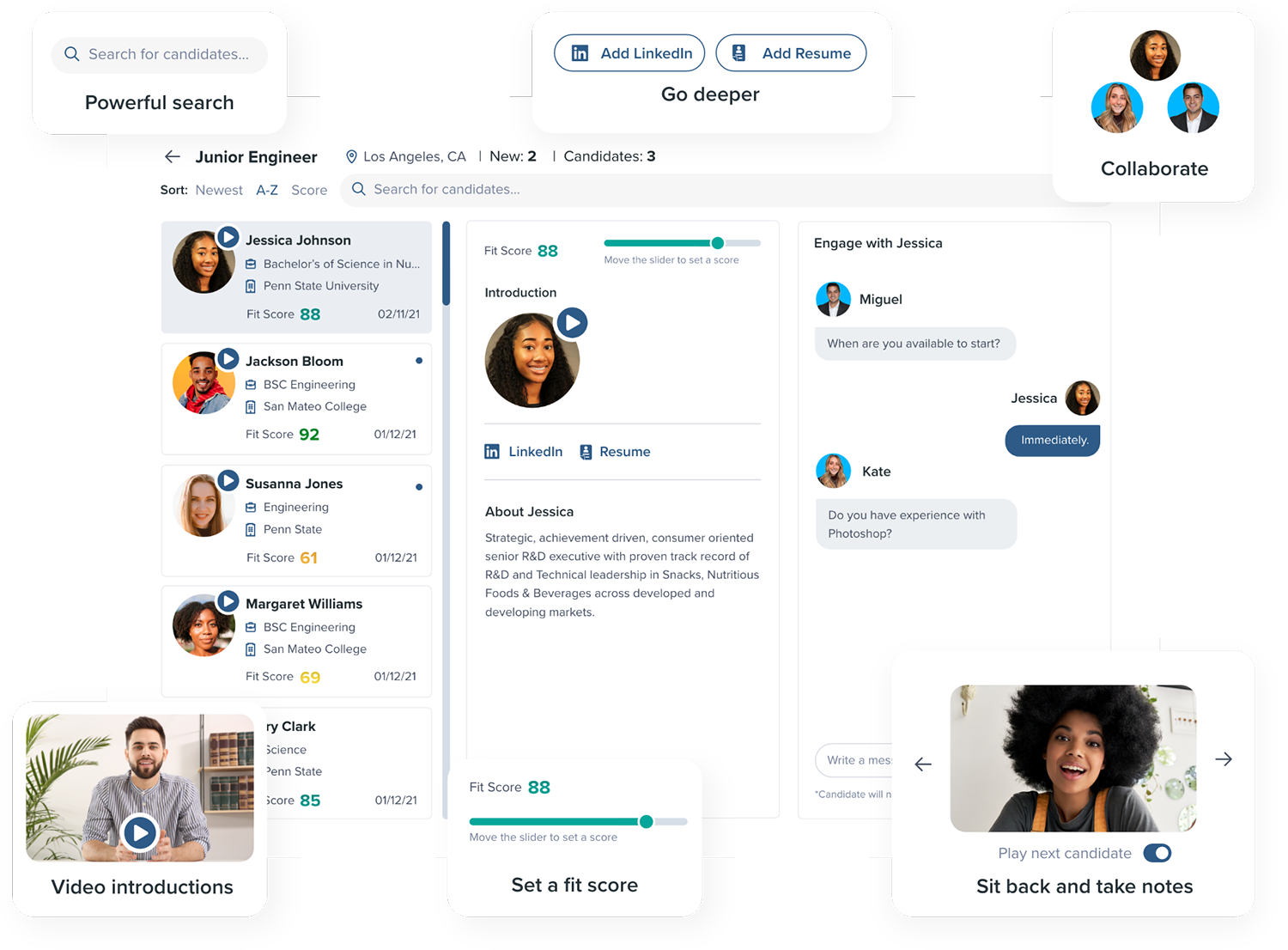 Engage hidden talent
Use AtlasJobs' programmatic Engage AI platform to find candidates hiding in plain sight. We can help drive more exposure to your ideal candidates leveraging a variety of targeted marketing tactics and deliver candidates directly to you.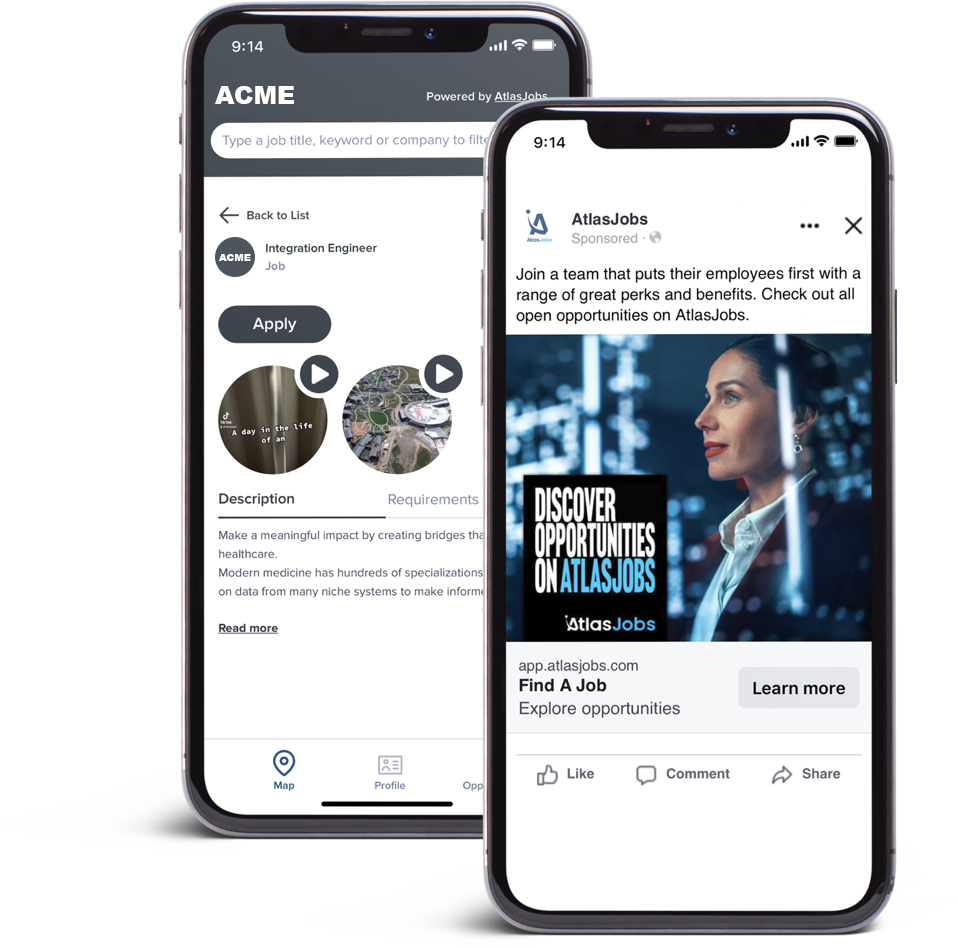 All your talent acquisition metrics in one place
AtlasJobs' Measure AI Visualizes data to aid in optimizing your talent acquisition campaigns and programs. Visualize your acquisition campaigns with concrete metrics that you can pull into any report or presentation.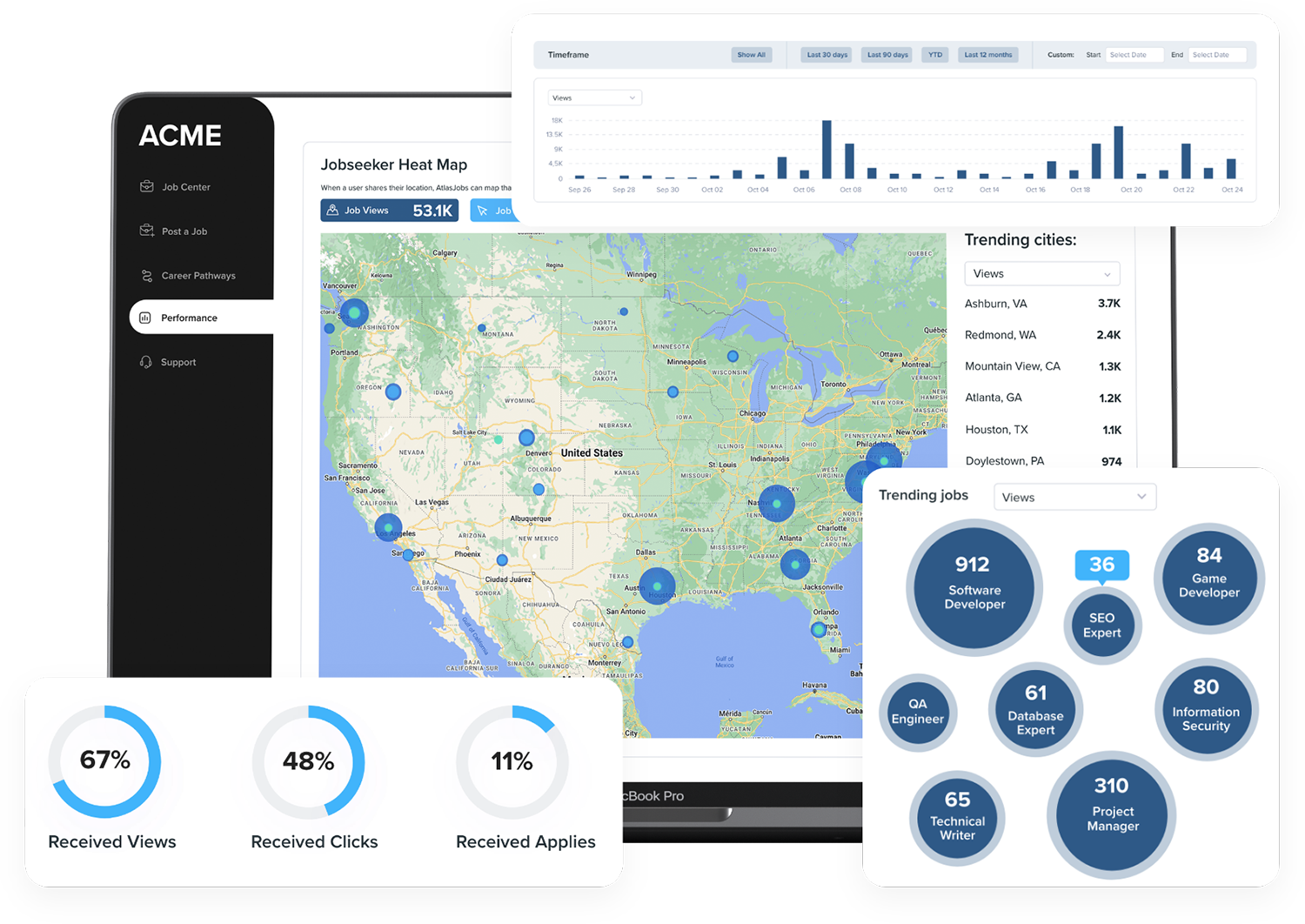 Get your game on. Here's how it works:
DAY 1
Consultation on your current process and an evaluation of how AtlasJobs fits in to your existing environment.
DAY 2
We load your job opportunities on to the AtlasJobs map for the world to see.
DAY 3
Your job postings are live on your branded map, which can easily be placed on your web pages or shared. Candidates are viewing your company profile and open positions.
DAY 4
Your open positions are discoverable on the AtlasJobs app for all the world to see.
Weeks 2-4
Add your branded job search map to your web pages and share with recruiting partners.
Week 3-8
Gold members+ complete integration with ATS and CRM systems.
Week 8-52
Employ Engage AI to actively promote specific roles or all open positions.
Quarterly
Receive a quarterly consultation with the AtlasJobs team to review program and opportunities for optimization.
COVID has changed everything about the job market. There is plenty of talent out there, but large companies haven't been able to evolve quickly enough to find it. That is where AtlasJobs fits in.
Finding and hiring the right talent is mission-critical to us, AtlasJobs allows our jobs to be easily discoverable by talent all over the United States. The artificial intelligence and geo-targeting capabilities allow us to discover new talent and nurture candidate relationships like never before.
AtlasJobs allows us to make sure that people all over the US and globe are aware of how rewarding a career in agriscience can be and the opportunities we provide.